Accessories
Here you will all necessary Grid Wars accessories - Grid Wars Dice, Grid Wars Mats, Tokens, and gadgets that will make every game more enjoyable. If you are interested in organized play, contact us at [email protected] for free Tournament Kits.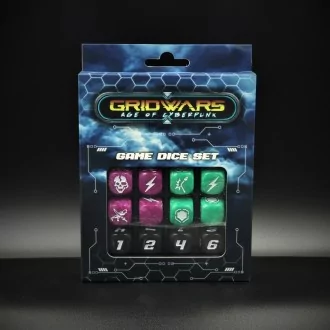 accessories
This set contains 20 high-quality acrylic, engraved, marble dice. Roll through your Gridwars battles!
€ 19.90
Regular price
-€ 10.00
€ 29.90
Price
accessories
Contains a 20" x 30" double-sided Battle Board for Bloodfields and Gridwars. Combine two Battle Boards for full-scale clashes. Play your games on a convenient, dedicated board that is easy to store!
What accessories do I need to play GridWars?
In order to play GridWars, on top of the miniatures, you will need some accessories that will allow you to begin the battle for the Grid. First of all, you will require a hex grid for your playing area. This is the surface on which all the other elements will go. Then, to place it on it, you will need terrain. The terrain in GridWars comes in a variety of types. First of all, there are buildings. These locations take up multiple hexes, they have walls, windows, and doors and their roofs are accessible by units. There are even multiple-stories larger buildings that allow for 3-dimensional battles. After you place all terrain on the battlefield, you will add many single-hex terrain elements that include hacking terminals, barriers, cameras, tables, and other obstacles. Now, your playing area is ready but you still need some extra components that will be utilized during gameplay. First of all, there are dice, the custom GridWars dice consist of attack dice, defense dice, and regular d6 dice used for tests. Then, there are tokens, these small elements are used to track units' health, their energy levels, and various conditions that are commonly applied to them, as well as scenario objectives. Once you prepare everything, the last things you will need are templates and measuring tools. GridWars do not require measuring tape but it has a dedicated tool that you attach to a unit's aiming spot in their base to check for visibility and cover.
How to obtain GridWars: Age of Cyberpunk dice?
Dedicated GridWars dice sets are available in the Titan Forge official store. You will only require a single set in order to have enough dice for both players. The GridWars dice set consists of 20 acrylic dice that fit perfectly with the game's theme and are a quality hobby product. They will last for countless games. The dice are engraved, sturdy, and with a marble pattern so they are ideal for rolling and have a unique aesthetic. In the set, you will find 8 purple attack dice, 8 green defense dice, and 4 regular black D6 dice used for hacking, charging, and other tests. Grab a set of Grid Wars dice along any order to make sure that you will play with style and convenience. We deliberately keep the price of this full dice pack very low to allow every player to own their set and be able to use it.
What should I use as The Grid (playing area) in GridWars?
GridWars is played on a 30" x 40" playing area that is divided into hexes. You can use multiple techniques in order to create The Grid for your tabletop. The most convenient way is to purchase the ready-to-play Battle Boards from Titan Forge's official store. These accessories are foldable, so they are easy to store, and the high-quality cardboard makes them durable and lasting. One board will be enough for small GridWars skirmishes, however, in order to set up a full 200-point game, you will need two boards to place next to each other. The Battle Board design allows the hexes to align creating a full-scale Grid. Alternatively, you can print out the grid in your local print shop on a poster, or use your 3d printer to create an FDM plastic grid for your games. Everything you need to create your own grid is downloadable in the Resource tab on thegridwars.net.
Where can I find the best terrain models for GridWars?
Check out our STL store on MMF and GridWars campaigns in order to obtain STL files for GridWars terrain. You can affordably have them 3D printed on your home 3d printer or using a 3d printing service. The GridWars terrain is adjusted to fit on the hexes. The terrain models will make your GridWars battles more strategic. They can be used as cover for your units and you can set up traps and ambushes using the doors, windows, and corners. Buildings also allow the units to use their upper floors and roofs for 3-dimensional combat. The high ground allows a better overwatch of the playing area and provides a strategic advantage. Look out for GridWars terrain coming to our offer as we are preparing some affordable alternatives to 3d-printed terrain that will allow you to fill your battlefield with new kinds of terrain.