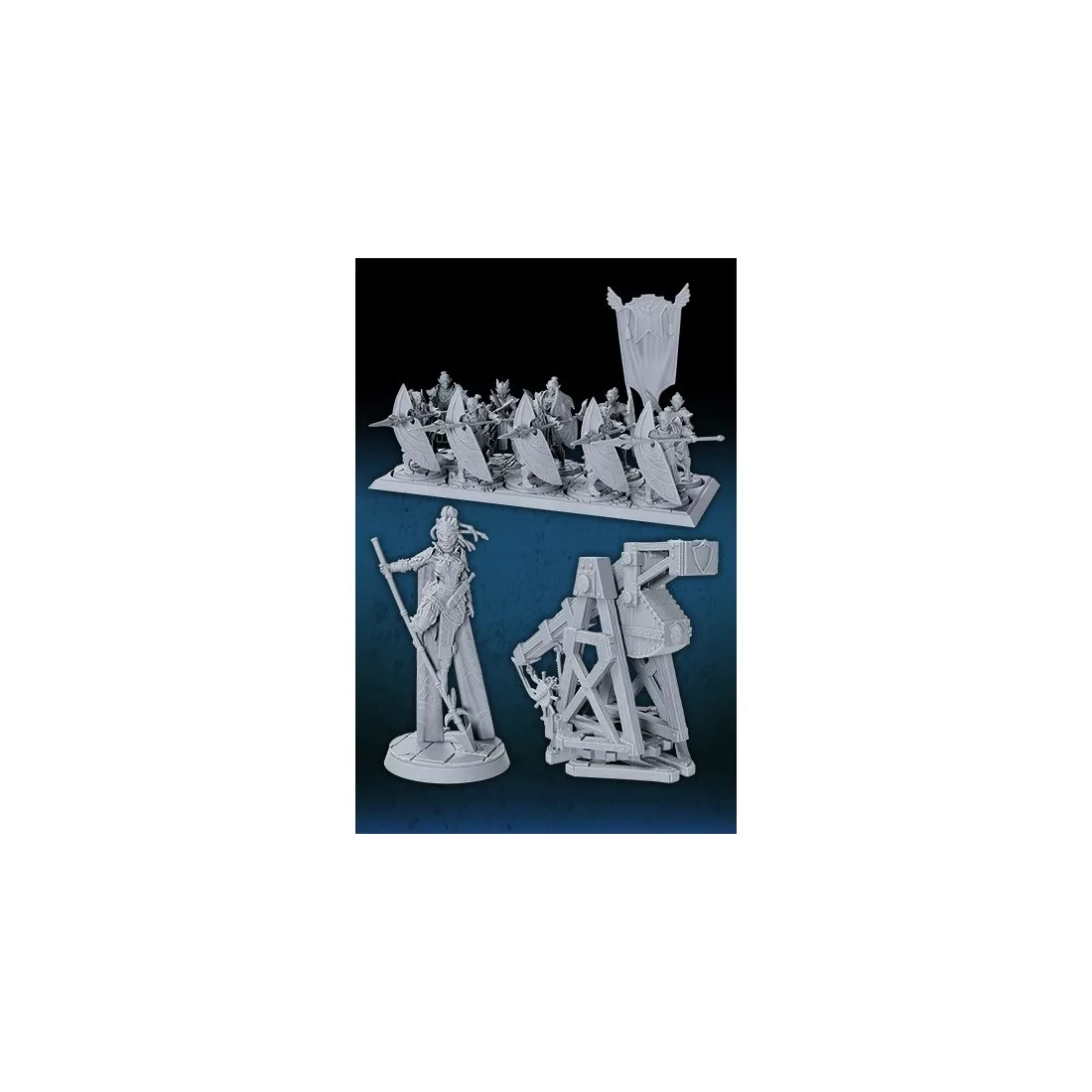 FANTASY MINIATURES
Titan Forge wargame company shop offers premium fantasy wargaming miniatures collections for sale in 32mm and 28mm scale. The most popular wargaming miniature games like Warhammer and Dungeons and Dragons.
Fantasy miniatures
SUBCATEGORIES
What is a fantasy miniature hobby?
The first miniatures come from the Neolithic era which shows the human fascination with the miniature world is deeply rooted in our nature. The craft has been perfected throughout the ages with the results you can see today. Collecting miniatures is not just about the models but about the whole accompanying process. Assembling a model, choosing the base, deciding on the color scheme, and using all the meticulous painting techniques. Finally using the miniature, either in games, or dioramas, or choosing a perfect spot to display them constitutes a rewarding hobby that we invite you to explore and be proud of.
Where to use fantasy miniatures?
Most hobbyists use Titan Forge miniatures in a wide range of wargames and wargaming systems where they truly shine on the table and strike fear in the opponents. The most popular games currently are Warhammer: Age of Sigmar, Frostgrave, A Song of Ice and Fire, Lord of the Rings, Kings of War, Warmachine, and many more. Fantasy miniatures are also commonly incorporated in fantasy RPG sessions. Whether you are looking for a model that depicts your unique character, an NPC, or a monster that will be a high point of the gaming night, you will find dedicated and carefully sculpted miniatures for them right here. Finally, the appeal of Titan Forge models speaks to many collectors that simply enjoy painting and displaying highly-detailed miniatures or using them in their dioramas and art projects. Whatever your need is, we guarantee that you will a perfect model that suits your needs right here.
Are Titan Forge fantasy miniatures different than others?
Titan Forge miniatures are definitely one of the most renowned and recognized brands in the hobby. The main reason is the uniqueness of the sculpts. Every model is prepared with great care and we are always looking for new ways to make our models special, either by creating a theme or adding details that will stand out. Our team's secret is how deeply it cares about the poses in which the miniatures are represented. A dynamic position that looks captivating even when looking just at the miniature's silhouette is what truly makes a great sculpt.
Titan Forge is also very concentrated on current trends. We are avid competitive wargame players, roleplaying gamers, and board game fans. Whatever is new and popular, you can be sure that we will get inspired by it and create our own imaginations of how it can be done. Still, classic fantasy concepts like dwarves, elves, and knights are what we love creating and we especially enjoy the challenge of creating them in a way that no one has ever thought of before. We truly hope that this is something that you can see in our designs and that it will allow us to make many more thematic collections.
How are Titan Forge fantasy miniatures made?
Over the years we have been strongly focusing on the physical aspect of Titan Forge miniatures. We have honestly researched and tried out every casting and molding technique there is in order to provide miniatures that actually last. With the progress of technology, we have intensely researched 3D printing right from when it was first introduced. Currently, most of the models that you get from us have been 3D printed. Our machines are constantly being calibrated to provide you with flawless models.
Setting up and caring for our equipment is not the only element of the recipe for a great miniature. Together with Ameralabs, we have invented a resin that is perfect for 3D printing gaming models. What really stands out in Titan Forge miniatures is their flexibility. Even the tiniest element will not only bend without breaking but it will also effortlessly come back to its original place. This is especially amazing when put together with this TGM7 resin's durability from breaking and imperviousness from cracking.
Where to get Titan Forge fantasy miniatures?
You can get the entire collection of Titan Forge models right here in the online store with extremely affordable 7 euro worldwide shipping. As miniatures are delicate, we are always going the extra mile in order to secure them and make sure that they arrive to you in great shape. And even if something would happen to them, our support is always working to quickly provide you with replacements without a hassle. In the Titan Forge store, you will find fantasy miniatures divided by main categories like humans, orcs, or elves. Further, for the convenience of wargamers, we are separating our miniatures by units, heroes, warmachines, and monster, so that you can quickly find exactly what is needed for your army.